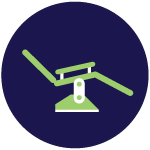 We are centrally located at 1111 Lonsdale Ave with ample underground and street parking. Our spacious and state of the art office offers you the latest, science based orthodontic technology enabling us to deliver exceptional results in the shortest time possible.
We are not affiliated with any large corporation nor do we accept any financial incentives for favoring the products of any one company over another.
Rather than a one size fits all approach, we customize treatment to your unique needs and expectations and work together with you to achieve a healthy and beautiful smile that is right for you.